6 Great Toys for Babies
Fun toys for babies
If you're looking for new ways to entertain your baby, it's time to explore some toybox essentials. These baby toys provide your little one with hours of fun and are great for their development. Fill their first 12 months with joy and help them learn with moving toys for babies. Time for you to get down to their level (yes, it's playtime for you too) and join in.
Baby toys for 0 to 6-month-olds
Your baby is exploring their senses in this stage of development – it's all about movement and fun new textures.
Deluxe Kick & Play™ Piano Gym
The sights and sounds of this activity mat add new discoveries to tummy time. Little ones can sit and play or kick and strengthen motor skills using this colourful, musical toy designed for babies.
Grow-with-Me Tummy Time Llama
It's always nice to see a friendly face. Sensory soft toys for babies give your youngster a plush pal to support them as they go from lying on their back to sitting up, turning tummy time into playtime.
Baby toys for 6 to 12-month-olds
Hands-on play with interactive toys for babies is where big discoveries happen.
Rock-a-Stack®
This classic tower of rainbow fun lets little ones get a hold of grasping and stacking. Help your baby explore colours and sequencing with a learning toy that builds fine motor skills and coordination.
Laugh & Learn® Smart Stages™ Puppy
Meet your baby's first best friend. This cuddly dog lights up and teaches words, parts of the body, colours and shapes. Toys for babies with Smart Stages technology let you choose new songs, sounds and phrases.
Toys for 1-year-olds
Your 1-year-old is learning something new every day – from independence to physical skills. Help them along with learning toys that let them practice new abilities.
Learn with Me Zebra Walker
Help your baby find their feet with a new zebra friend. This colourful walker plays music and songs that encourage little ones to move, groove and take their first steps.
Little People® Toys
Your baby is growing curious about the world around them. Little People® toys for 1-year-olds make the big wide world perfectly kid-sized so tots can get to grips with new experiences and explore with their own hands.
With these newborn toys designed for activity and learning, it's never too early to play.
And you're never too old to join in (just turn off your grown-up brain before you do).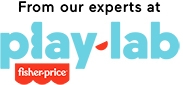 Discover all products from Birth to 6 Months