Babies and music
How music helps your baby learn
From lullabies to nursery rhymes, music is a big part of childhood. As a parent, you'll feel like you can't get some baby songs out of your head (lack of sleep can do that too).
Still, listening to music is a fun way to bond with your baby, and it's great for development.
Time to strike a chord and get ready to rock out together.
Movers & shakers love musical instruments
Music helps your mini build gross motor skills – watch them clap and kick when you turn on the tunes. Balance and coordination begin when your baby starts dancing. Why not introduce some fun friends to the party with musical toys? Mini musical instruments boost fine motor skills. Let your baby create a symphony with a xylophone, tambourine or maracas.
Musical toys for mini maestros
Music is great for little brains – it engages listening skills and kick-starts sensory development. Lyrics help your baby to learn their first words. Repetitive nursery rhymes are great for this – you can't beat the classics. Musical toys for babies can teach colours and numbers, while pressing keys shows cause and effect. Try a musical play mat, walker or book.
Toy instruments to help your social butterfly
Music helps your baby tune into their feelings, and it's a great foundation for social skills – especially if you're listening and playing along with them. Your little one can explore their biggest emotions through stories in the songs they hear (happy or sad). Musical instrument toys nurture creativity and help your baby develop problem-solving and motor skills.
Music & Memory
The music your baby loves can get pretty repetitive, but research shows that kids as young as 8 months can recognise their favourite tunes.
Benefits of singing to baby
Create music of your own by singing to your little one whenever you can. They listen to the words, and it helps to build early language skills.
Tunes don't just help your baby's development – they're also lots of fun. So, turn on the music, grab some musical toys and get ready to rock
(Mum, Dad and baby dancing optional).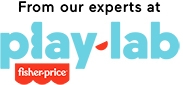 Discover all products from Birth to 6 Months